The Chennai Emailer is a biweekly newsletter delivered to your email every Saturday and Sunday.
💌It is a local journalism project from Chennai which brings out original human interest features and news compilation.❤️The idea is to keep residents of this exciting city stay updated with useful local information and also instill the joy of reading inspiring stories.
By subscribing to this newsletter, you will get:
🗓️Every Saturday, a crisper 'News of the Week' edition. It includes 📰essential news articles, 🌦️Weather reports, 🚌transport bulletins and 😷Covid updates sourced straight from government websites and official social media accounts. 🌐🎫 Also includes recommendations to best online and offline events taking place across the city.
Check out previous editions: Here and here.
👫🏽On Sundays, you will get an original human-interest story. 👥Featured here are profiles of Chennai citizens who are offering solutions to common problems and running businesses or initiatives that make a difference.
A few features published so far:
---
💌The Chennai Emailer was featured on Media Buddhi!
---
Thanks for reading The Chennai Emailer! Subscribe for free to receive new posts and support my work.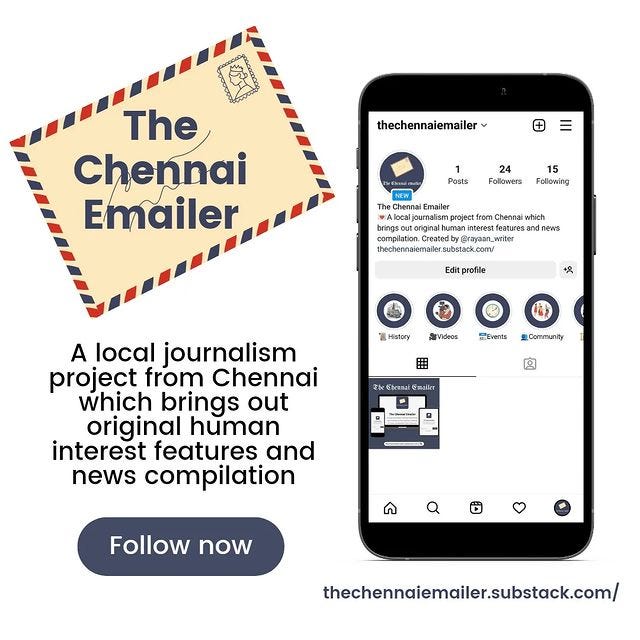 ---
Hello there!
Thanks for visiting The Chennai Emailer. It is run by me—Mohammed Rayaan😊✌🏽. I am a journalist/writer based in Chennai, India.
I won a scholarship from the Facebook Journalism Project to pursue the 100-days online Entrepreneurial Journalism Creators Program at the Craig Newmark Graduate School of Journalism (City University of New York).❤️
As part of the course, I started this newsletter as my passion project to bring out the best of local journalism from this city that I call home.
A bit more about me:
I currently work as a Sub-Editor for The Hindu BusinessLine. I have worked as an entertainment and features writer for DT Next, an English daily newspaper. Previously, I was also associated with News Today, an English evening daily. 📰
My bylines have appeared on LiveWire, Better India, and on The Opinioc, a publication in the Medium. You can also find my writings on ScrollStack. I have worked with start-ups and entrepreneurs and have created content for their businesses. 👨🏽‍💻
When I am not a journalist, I write stories of my own, read a lot of books or magazines and I watch TV. Visit my personal site www.rayaanwriter.com if you'd like to connect with me. For queries related to this newsletter, you can reach me at thechennaiemailer@gmail.com | Cheers! 😊❤️
---
People
The Chennai Emailer
A local journalism project that brings out original human-interest features & news compilation from Chennai