News of the Week (July 24-30)
Interview with India's chess coach RB Ramesh, a curation of cool videos on the Chess Olympiad and more...
Welcome back to The Chennai Emailer — a local journalism project that brings out original human-interest features & news compilation from Chennai. It's run by me —Mohammed Rayaan😊
This newsletter is my passion project to highlight the best local journalism in Chennai after participating in this year's Entrepreneurial Journalism Creators Program at the Craig Newmark Graduate School of Journalism (City University of New York).
♟️Chennai on 'board' for Chess
👑The chess fever continues to infect the city as Chennai welcomed over 188 nations to participate in the 44th FIDE Chess Olympiad. You can watch the opening ceremony here👇🏽. Check out the photos 👉🏾here.
👮🏽Ahead of the exciting event, the government allocated about 4,000 policemen to provide security. 🎒Schools and colleges on July 28 were declared holiday. 🏁Last Sunday, the city created a world record as it held a mock live chess game in preparation for the Olympiad.
🌍Ever since the players started landing at the venue, they have all lavished praise on how well the event has been organised. 👥Here's a great read about the volunteers, people behind the show. 🎨In celebration of the Chess Olympiad, some Chennai women have created artistic kolams.
📹Also watch this👇🏽
And check this out too…👇🏽
😍Also is this the coolest video?👇🏽
❤️And also do watch this beautiful clip by FIDE👇🏽
😮Inspiring: Read this quick profile of a Class IX student who has Duchenne muscular dystrophy and is "showing remarkable flair for the game of chess". 🤔Do you think chess should be a part of the school curriculum? Read here.
📲Effective marketing and beyond: Indian Grandmaster Viswanathan Anand tweeted a photo of Aavin milk packet with a promotional design of the Chess Olympiad. While the creativity was lauded, former journalist and advocate Sanjay Pinto wrote an interesting piece on how milk packets can be used for more such public service announcements.
😍Bonus read: I had the amazing opportunity to interview RB Ramesh, India's popular Chess coach. 🏃🏽He spoke to me on challenges faced by the new players and what the government and others can do about it. Read here. Also check out "Winning moves: Why are Indians getting so good at chess?".
---
🏢Civic updates
💡According to residents, a stretch of the Chennai Bypass between Maduravoyal and Tambaram lacks street lights, making driving at night dangerous. 📍In an effort to improve welfare assistance for street vendors and regulate their businesses, Greater Chennai Corporation (GCC) is mapping street vendors.
🚙Mornings and evenings on the Chennai-Bengaluru National Highway, motorists encounter heavy traffic congestion. 🚧Meanwhile, the widening of this highway from Maduravoyal to Walajapet is further delayed for want of earth and fly ash. 🏗️Also the Guindy National Park is all set to be remodelled.
🚌Chennai MTC Bus app to be available on iOS platform. Senior writer and editor G Ananthakrishnan reviewed the Bus app and you can read it here. I spoke to him last week for my post How to do better local journalism.
🌳Environment
🧹GCC organised a mass cleaning drive across several localities and over 192 tonnes of waster was removed. 🌊An NCCR study says that nutrients due to heavy rain, plankton cause bioluminescence in Chennai beaches. 🐟Activists are worried about the frequency cases of fish kill in Ennore Creek. 🌳Tree saplings become pets for middle school children in Tiruvallur. Corporation-run schools are short on teachers.
🍽️Event
🍚Street Food Festival at Bougainvillea Park in Anna Nagar: Vendors from various parts of Chennai will set up at least 50 stalls with varying styles of Chennai's street food today from 5 to 8 p.m.
---
📹Watch this
---
📰Get smarter makkale
❤️A curation of articles to help you become an informed citizen
---
📚Learn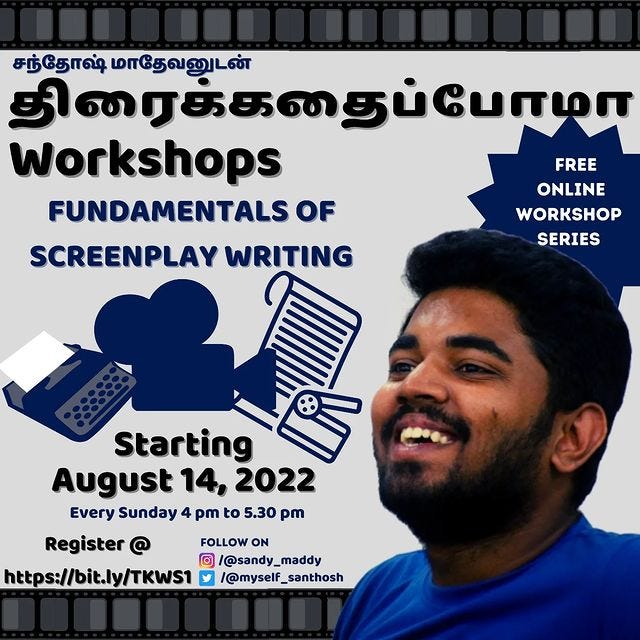 ---
And that's all for today! To share this post as a web page, click below:
Wish to read more? Then do sign up!
Did you like reading this edition? Should I do better? Please don't hesitate to offer me your feedback. I am open to ideas and suggestions. Feel free to reach me at thechennaiemailer@gmail.com or you can simply reply to this email or comment below. See you tomorrow! Do forward this newsletter to your family and friends. 😊❤️