News of the Week (Aug 16-20)
Curation of events for Madras Day Celebrations and more...
Welcome back to The Chennai Emailer — a local journalism project that brings out original human-interest features & news compilation from Chennai. It's run by me—Mohammed Rayaan😊
This newsletter is my passion project to highlight the best local journalism in Chennai after participating in this year's Entrepreneurial Journalism Creators Program at the Craig Newmark Graduate School of Journalism (City University of New York).
❤️👉🏾📱: To stay updated, do join my private Facebook group here.
---
👥Community
🚸To keep children creatively engaged during the height of the pandemic, three digital marketers launched a platform based in Teynampet. 🧵After finishing her 'graveyard shift', this techie from Purasaiwalkam "spends a few hours making handicraft items before calling it a night".
🎓Shrine Vailankanni Senior Secondary Alumni Charitable Trust helps deserving students to avail scholarships. 🚌Read this interesting feature: "Madras on the roadside: A tour of bus shelters that bring a flavour of Madras to the city". 🗣️When providing feedback about the integrated SWD project, it may be helpful to be prompt: Jeth Nagar in Mandaveli spoke out for a street before GCC officials. ❤️The city is all set to host an impressive lineup of programmes for Madras Day celebrations. 🩺A good news: Organ donations have gradually picked up pace in the government sector in Tamil Nadu over the last seven months.
🚨Law and 🚔order
🪙The city witnessed a dramatic heist last week at the Fedbank-Gold Loans office on Razak Garden Main Road at Arumbakkam with three men looting about 32 kg of jewellery! The police eventually caught the mastermind. 🏊🏼In other news, Director General of Police C Sylendra Babu rescued a boy who fell unconscious after he nearly drowned at the Marina beach.
🏗️Civic updates
📱The Greater Chennai Corporation is all set to link more certificates including tax forms, licence and building plan applications with DigiLocker. 💧The government has yet to approve projects that would manage the city's water supply deficit even as the GCC is set to review "ward-level water management". 🚱Residents of Kasturba Nagar are a worried lot as the stormwater drain project continues to get delayed.
🌦️In a bid to improve its weather monitoring and forecasting services, The Regional Meteorological Centre, Chennai, will "add more automatic rain gauges to its observational network across the State". 😷Sanitation workers in the city were trained in preventing hazardous cleaning. Meanwhile, the Tambaram Corporation is planning to biomining the waste below the Pallavaram lake.
🚎Transport
Not everyone is happy following the announcement of a new airport in Parandur. Farmers are worried that it may rob them of their livelihood as farming here is the main occupation and the region is abundant in water resources. The community here is quite upset that they staged a walkout during a public hearing at the Kancheepuram Collectorate. Meanwhile, the Chennai Airport opened sleeping pods at its premises.
✈️If you happen to pass the brand new footover bridge near Nungambakkam Railway Station, which was inaugurated at a cost of ₹5.42 crore, then do check out the vibrant lights and bright wall paintings that adorn it.🚩Encroachments in Chromepet were demolished by the Highways department while Vijayaraghava Road has "two issues that need to be addressed".
---
📰Get smarter makkale
❤️A curation of articles to help you become an informed citizen
---
🗓️Events
Several organisations are hosting interesting events for Madras Day celebrations. Check them out below: 👇🏽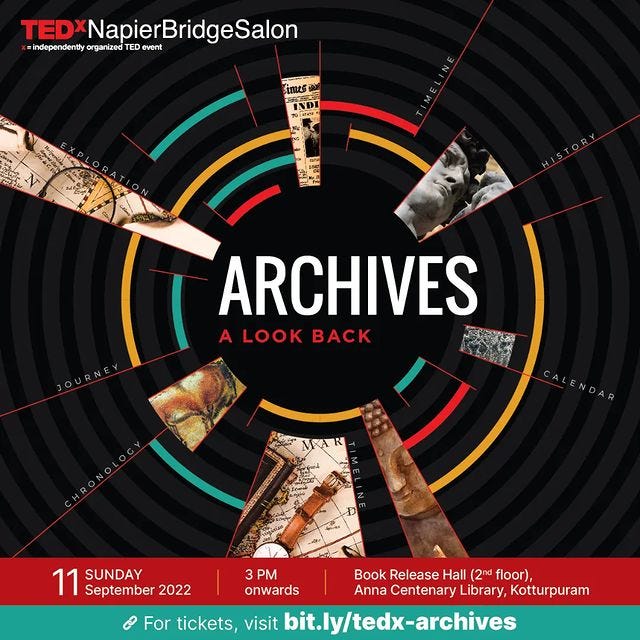 ---
❤️👉🏾📱: To stay updated, do join my private Facebook group here.
---
And that's all for today! To share this post as a web page, click below:
Wish to read more? Then do sign up!
Did you like reading this edition? Should I do better? Please don't hesitate to offer me your feedback. I am open to ideas and suggestions. Feel free to reach me at thechennaiemailer@gmail.com or you can simply reply to this email or comment below. See you tomorrow! Do forward this newsletter to your family and friends. 😊❤️